Spinal Cord Injury
Evaluating neuro-regenerative and neuroprotective therapies.
Overview
Spinal cord injury (SCI) often results in sensory problems, severe motor dysfunction (such as complete paralysis) and chronic pain, making spinal cord injury research complex and challenging. Several preclinical models are commonly used to evaluate pain and motor dysfunction mechanisms associated with SCI.
Assessments
MD Biosciences incorporates a range of in vivo measures and endpoint assessments that provide a robust data package that enable researchers to make critical decisions.
Scientific Data
H&E staining of the spinal cord 13 weeks post SCI in female rat with a Basso, Beattie, and Bresnahan score (BBB) score of 12.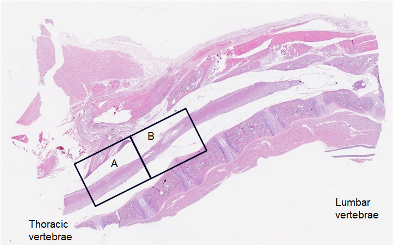 Review the complete dataset.