Spinal Cord Injury
Evaluating neuro-regenerative and neuroprotective therapies.
Overview
Spinal cord injury (SCI) often results in sensory problems, severe motor dysfunction (such as complete paralysis) and chronic pain, making spinal cord injury research complex and challenging. Several preclinical models are commonly used to evaluate pain and motor dysfunction mechanisms associated with SCI.
Spinal Cord Injury Models
Model

Readouts

Contusion Injury in Rats
Cutting Injury in Rats
Extraction Injury in Rats

Basso Beattie and Bresnahan (BBB) score

​

Open field assay

​

Walking Gait (catwalk)

​

In vivo electrophysiology

​

Spinal cord histology

​

Biomarker analysis

​

Spinal Cord Injury in a dish -

Primary cells are dissociated directly from adult (>5 weeks old) rat spinal cord tissue, plated in media and incubated with test items or controls.

Synapse formation.

Cells are also monitored longitudinally, stained using immunocytochemistry against cytoskeletal antigens (Tubulin III) and neurites are quantified for length.
Assessments
MD Biosciences incorporates a range of in vivo measures and endpoint assessments that provide a robust data package that enable researchers to make critical decisions.
Scientific Data
Histology of Myelin Basic Protein (MBP) Immunoreactive Cells in the rat SCI model.​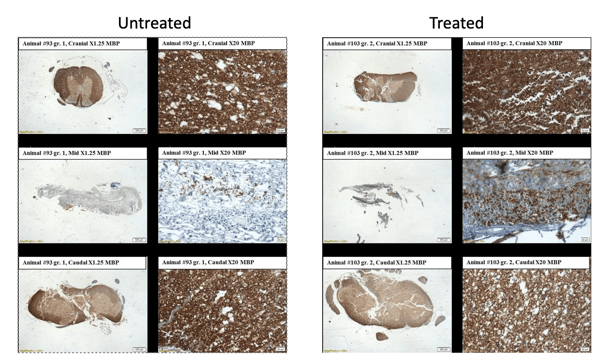 Synapse formation after spinal cord injury in a dish.