Designing Studies for Stroke and Ischemia
There are a number of well-characterized, ischemic stroke models used to study ischemic stroke injury and mechanisms of cell damage. Focal ischemia (MCAo) models are used to mimic human stroke, however the global ischemia (4VO) model is highly relevant in clinical conditions, such as cardiac arrest. Our stroke models can also be used as a platform for studying effects of therapies on neurodegenerative disorders.
Models for Stroke Pathophysiology
A description of ischemic models offered, the area of expected damage, and the relevant cognitive/behavior tests.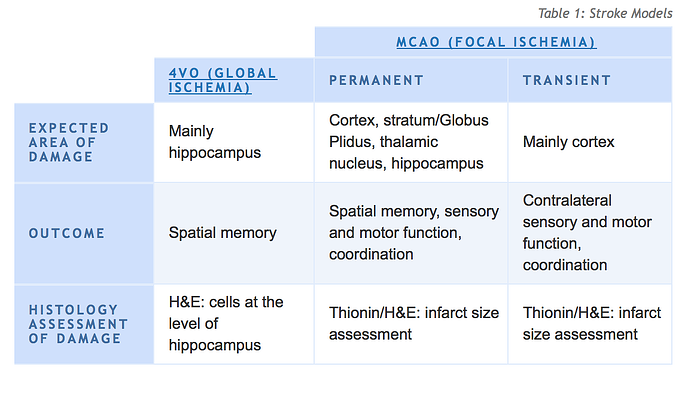 Scientific Data
Laser Doppler Flowmetry (LDF) data can be collected to monitor cerebral blood flow (CBF) during surgery. Figure: Blood flow was recorded with LDF at baseline and at occlusion commencement. Blood flow reduces at occlusion and increases to baseline levels after reperfusion, indicating that the surgery was successful.

Review the complete dataset for ischemia models.