EAE model for the study of Multiple Sclerosis (MS)
Due to the clinical and pathological similarities of experimental autoimmune encephalomyelitis (EAE) and Multiple Sclerosis (MS), EAE is a model for the study of human demyelinating disease. Both EAE and MS are characterized by a relapsing-remitting disease course with subsequent progressive disability. EAE is characterized by chronic inflammatory demyelination of the central nervous system (CNS) and involves autoimmune CD4+ Th1 cells. These cells develop in the peripheral lymphoid organ and travel to the CNS causing an immune response. The development of T cells is controlled largely by the expression of various cytokines, as well as cellular adhesion molecules.
MD Biosciences is an experienced research partner with strength in designing pharmacology efficacy studies for Multiple Sclerosis (MS) demyelination disorders. Our studies aren't limited to body weight and clinical score. We bring translational insight by incorporating electrophysiology for the study of degenerative and neuroprotective effects of therapies.
Assessments
MD Biosciences incorporates a range of in vivo measures and endpoint assessments that provide a robust data package that enable researchers to make critical decisions.
Scientific Data
Electrophysiology (EP) unveils motor and sensory phenomenons in Neuroinflammatory Diseases such as MS/EAE. By adding electrophysiology to studies, we are able to detect changes in disease severity when clinical scores aren't sensitive enough to reflect changes, predict what may happen in the motor system prior to clinical scores showing changes, and understand the neuroprotective effects of therapeutics.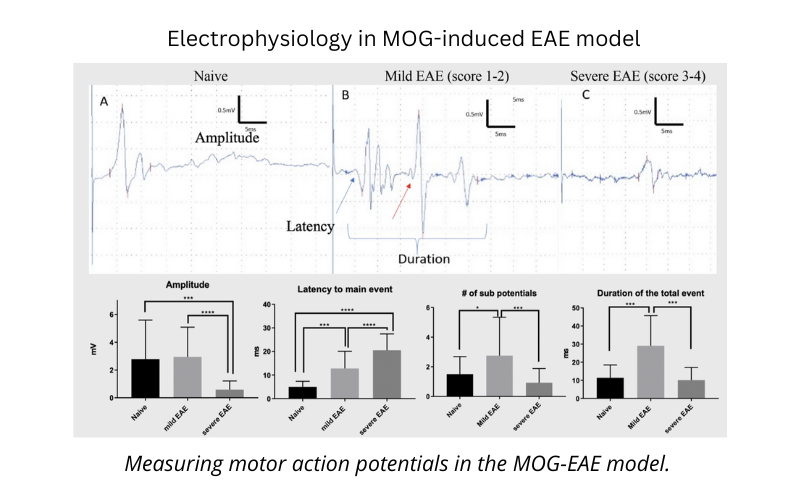 Review the complete dataset.