Peripheral Nerve Injury
Preclinical models for assessing neuropathic pain as a result of injury to the nerve.
Understanding Mechanisms underlying Neuropathic Pain
Neuropathic pain may arise from many different disease states and present with a variety of symptoms, including shooting or burning pain, tingling, numbness, and allodynia (pain in response to a normally innocuous stimulus). Clinically significant relief is often difficult to achieve, in part because conventional opioid therapy is typically less effective for neuropathic pain. Also, patients vary widely in their response to other types of analgesics. Understanding the mechanisms underlying neuropathic pain syndromes is crucial to the development of more effective therapies.
Models of Peripheral Nerve Injury
Assessments
Neurological disorders often result in a combination of motor and cognitive deficits. Thus, behavioral assessments in conjunction with physiological readouts offer a broader understanding of the basic biological mechanism of disease and cognitive impairment, highly relevant to therapeutic developments.
Scientific Data
Data shows dynamic weight bearing in the CCI model.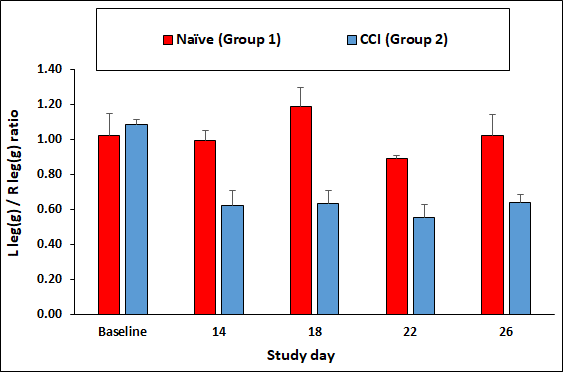 Review the complete dataset.