Working Together to combat Neurodegenerative disorders
Neurodegenerative diseases are marked by the loss of neurons within the brain and/or spinal cord, which impairs the function of the brain and central nervous system (CNS). It represents one of the greatest drug development challenges of all time with most neurodegenerative disorders having no real cure and little therapeutic advances over the last 30 years. As drug developers continue to advance science in this field, it is imperative that preclinical partners offer innovative approaches to combat the CNS drug development challenge.
Our CNS research services provide a multifaceted approach for the assessment of neurological diseases. Our facilities are fitted with equipment and technologies for preclinical and translational studies, and our staff is highly trained in various, clinically-relevant services to enhance study results including histology/IHC , biomarker analysis, behavioral assessments and electrophysiology capabilities.
Assessments
Selecting assessments that reveal the mechanisms of disease and therapeutic potential of compounds.
Clinical Score
Clinical score is a hallmark assessment added to just about every disease model. Clinical score provides important information, but may not provide the whole story. MD Biosciences supplements clinical score data with additional assessments that provide insight into the mechanisms of neurodegenerative disease.
Data example from the MOG-EAE model.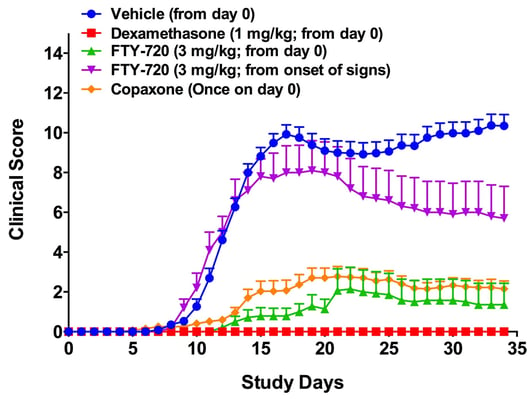 Behavior Assessments
Neurological diseases often result in a combination of motor and cognitive deficits. Thus, behavioral assessments in conjunction with physiological readouts offer a broader understanding of the basic biological mechanism of disease and cognitive impairment, highly relevant to therapeutic developments.
Click here to learn about relevant behavior assessments.
Water maze data example from a Stroke ischemic model.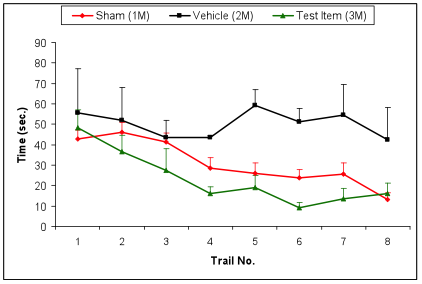 Enhancing our understanding of CNS Disorders
Electrophysiology enhances our understanding of neurological and pain indications. As one of the few laboratories in the world with these EP measurement capabilities, we can measure nerve regeneration, degeneration and protection in response to various treatments in non-clinical animal models.
Click here to learn more about electrophysiology capabilities
Electrophysiology data from the MOG-EAE model