Download whitepaper
Translational Biomarkers in Neuroscience
Unlocking value early in drug development and increasing the translational power of preclinical studies.
Topics Covered:
The promising potential for translational biomarkers.

How biomarkers increase value early in drug development.

Questions biomarkers answer along the drug development life cycle.

Categories of biomarkers and what they tell us.

A Preclinical case study that incorporates biomarkers to extract maximum value and increase the translational power.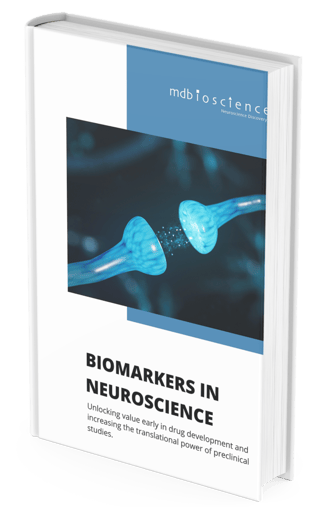 Biomarkers in Neuroscience
Neuroscience is one of the largest and fastest growing focus areas in drug development. Fueling this growth are breakthrough advancements, technologies, and translational biomarkers that have improved our understanding of central nervous system disorders.
As biomarkers begin to play a major part in neuroscience drug development, this whitepaper provides an overview of how they can be utilized to extract maximum value early in translational studies while being optimized for use in clinical studies to track patient response.
Complete this form for instant access to the whitepaper.