5 min read
Glatiramer Acetate (Copaxone® Generics) and Batch Release Testing in MS/EAE at MD Biosciences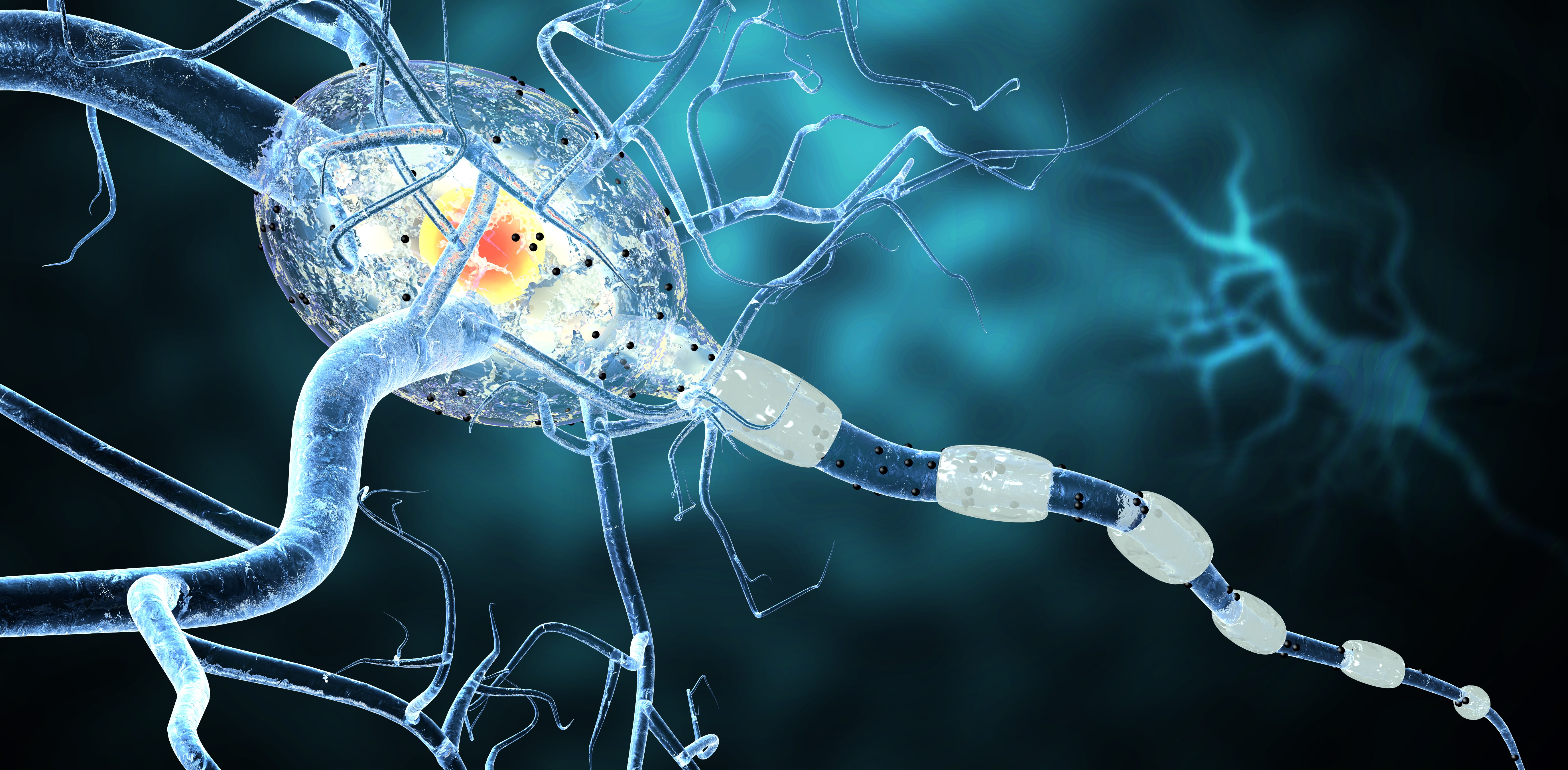 MDB Gains OECD-GLP certification for In Vivo Glatiramer Acetate Batch Release Testing Services
Summary:
MD Biosciences has expanded our services to include Clinical Batch Release testing for Copaxone® generics (Glatieramer Acetate). Already a leader among MS/EAE preclinical testing, we recently received OECD-GLP Certification for both protocol and facilities compliance with the necessary regulations to utilize our MOG-Induced EAE model for QC Clinical Batch Release testing of GMP processes. Contact us at info-us@mdbioscieces.com with a subject title of "EAE Batch Release Testing" for more information or to request a proposal.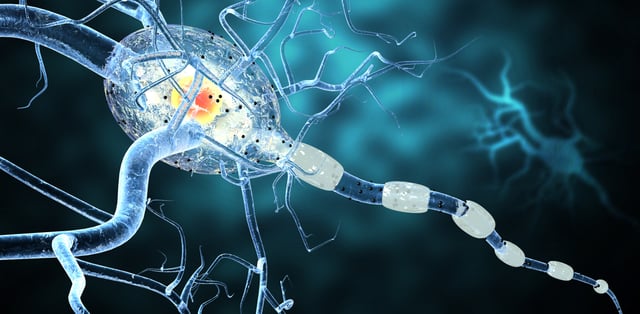 Background:
Multiple Sclerosis (MS) affects approximately 2.1 million patients worldwide, with an estimated 400,000 current patients and 200 new diagnoses each week in the US alone [1]. Characterized by a progressive, debilitating loss of the myelin sheaths that insulate axonal nerve fibers, the disease is thought to originate from an inflammatory autoimmune attack on the basic protein building blocks that make up such sheaths, namely the myelin basic protein, myelin oligodendrocyte glycoprotein, and proteolipid protein [2-4]. While treatments regimens can vary, they generally include a combination chemotherapeutics, anti-inflammatories, immune-suppressants and/or steroids [5], however the relapsing and remitting nature of the disease can often necessitate alterations in treatment regimens. To minimize the occurrence of relapses in Relapsing-Remitting Multiple Sclerosis (RR-MS), patients are frequently prescribed Copaxone® (Teva Pharmaceuticals), a combination of peptide copolymers made up of several different amino acids found in the structure of the aforementioned myelin basic protein. Though the mechanism of action of Copaxone® isn't entirely understood, daily subcutaneous administration of the 20mg/ml formulation of the drug (or 3x weekly for the extended release 40mg/ml formulation) shifts T-cell populations from a pro-inflammatory Th1 state to a regulatory anti-inflammatory Th2 state[6], potentially alleviating symptoms though not directly altering the progression of the disease.
Generic Copaxone® Competition
With the expiration (or outright denial) of several key patent extensions for Copaxone® formulations indicated specifically for the treatment of Relapsing-Remitting Multiple Sclerosis, manufacturing of generic Copaxone® Active Pharmaceutical Ingredients (API) has recently gained considerable attention from generic sponsors. Mylan's notable ANDA approval in Oct 2017 by the FDA for their Glatiramer Acetate injection demonstrated a significant step towards real generic Copaxone® competition in the marketplace, with multiple other generic pharmaceutical manufacturers awaiting a decision as to their generic's API sameness. As the manufacturing of such generic formulations begins to escalate, ensuring the quality, purity and ultimately the efficacy of the end product intended for administration to patients will become of the utmost importance. With a complicated polymer synthesis involving tightly controlled molecular weight distributions of the amino acids chains that make up the treatment, a variety of quality control analyses are needed to offer assurances that the end product meets regulatory compliance.
API Sameness and Batch Release Testing at MDB
In an April 2016 draft guidance docket for generic Glatiramer Acetate Injection development, the FDA listed several criteria as being recommended for demonstrating API sameness. Of those criteria, equivalence of biological assay results remains of great interest, as this is in effect a critical downstream readout of whether the end product is efficacious (provided similar safety testing results to the RLD Copaxone®). The FDA gave the following recommendation regarding such biological assays for results equivalence:
"A biological assay can serve as a confirmatory test of equivalence and provide complementary confirmation of API sameness. FDA recommends generic sponsors to use experimental allergic encephalomyelitis (EAE) assays, an animal model for multiple sclerosis, to assess the API sameness."
EAE is an intricate condition in which the interaction between a variety of immunopathological and neuropathological mechanisms leads to an approximation of the key pathological features of MS: inflammation, demyelination, axonal loss and gliosis. The counter-regulatory mechanisms of resolution of inflammation and re-myelination also occur in EAE, which therefore can also serve as a model for these processes. Moreover, EAE is often used as a model of cell-mediated organ-specific autoimmune conditions in general. EAE has a complex neuropharmacology, and many of the drugs that are in current or imminent use in MS have been developed, tested or validated on the basis of EAE studies.
About MS/EAE Modeling at MD Biosciences:
MD Biosciences has extensive experience in the design and execution of validated EAE Models, and our OECD-GLP certification for MOG-EAE studies will allow our clients to utilize this expertise and experience for their GMP QC processes. Our in-house in vivo laboratories include capabilities for comprehensive clinical scoring of disease manifestations as well as multiple behavioral assessments associated with inflammatory diseases of the CNS, and we also operate an integrated, fully-equipped and GLP-certified histopathology laboratory for qualitative and quantitative histologic analysis of neuroinflammatory tissues, including assessment and reporting by licensed pathologists.
For inquiries related to EAE models for either API Sameness assessment, batch release testing or for preclinical evaluations of MS therapeutics presently in development, contact an MDB scientist here or send us an email at info-us@mdbiosciences.com. For more information on our EAE models, see our MS focus area pages here.
References:
Zwibel HL, Smrtka J. Improving quality of life in multiple sclerosis: an unmet need. Am J Manag Care2011;17(suppl 5):S139–S145.
O'Connor KC, Appel H, Bregoli L, et al. Antibodies from inflamed central nervous system tissue recognize myelin oligodendrocyte glycoprotein. J Immunol. 2005;175:1974.
Zhang J, Markovic-Plese S, Lacet B, et al. Increased frequency of interleukin 2- responsive T cells specific for myelin basic protein and proteolipid protein in peripheral blood and cerebrospinal fluid of patients with multiple sclerosis. J Exp Med. 1994;179:973.
Pette M, Fujita K, Wilkinson D, et al. Myelin autoreactivity in multiple sclerosis: recognition of myelin basic protein in the context of HLA-DR2 products by T lymphocytes of multiple-sclerosis patients and healthy donors. Proc Natl Acad Sci U S A. 1990;87:7968.
Torkildsen Ø, Myhr K-M, Bø L. Disease-modifying treatments for multiple sclerosis - a review of approved medications. Eur J Neurol. 2016;23(Suppl 1):18–27.
Aharoni R, Teitelbaum D, Sela M, Arnon R. Copolymer 1 induces T cells of the T helper type 2 that crossreact with myelin basic protein and suppress experimental autoimmune encephalomyelitis. PNAS. 1997;94(20):10821-10826