Preclinical Neuropathic Pain Model
In the SNL model of peripheral neuropathy, the L5 and L6 spinal nerves are isolated and can either be cut or tightly ligated with surgical silk. Axonal degeneration occurs, with all types of axons being approximately equally affected. Pronounced mechanical allodynia follows, accompanied by spontaneous pain behaviors, cold allodynia, which lasts for months with no recovery.
Study Options
Rat L5/L6 ligation

Rat L5 only ligation

Mouse L5 ligation

Model length: up to 30 days

Positive controls: Morphine, Gabapentin, Pregabalin

Readouts: tactile allodynia (von Frey)

Endpoints: histology, biomarker analysis (protein or mRNA levels in sciatic nerve or serum/plasma)
Von Frey
Effects of morphine on Von Frey in the SNL model of peripheral neuropathy.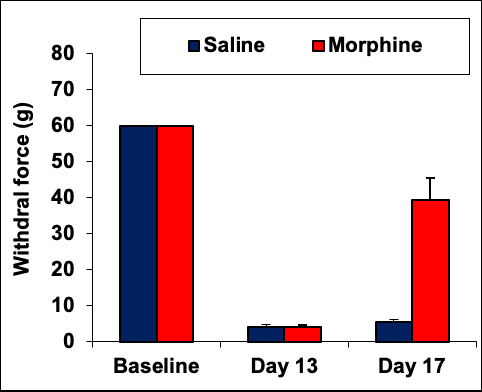 Paw Pressure
Changes in paw pressure (g) following Spinal Nerve Ligation in the SNL peripheral neuropathy model.