MOG-induced EAE Efficacy Model for MS Research
Experimental autoimmune encephalomyelitis (EAE) is primarily used as a non-clinical model of autoimmune inflammatory diseases of the CNS, and resembles many aspects of human Multiple Sclerosis (MS). The myelin oligodendrocyte glycoprotein (MOG)-induced EAE model is ideal for exploring this immune-mediated mechanism of neuroinflammation and demyelination. Our MOG-induced EAE model is well-characterized and commonly used in the development of a variety of MS therapeutics. MDB also provides OECD GLP-certified clinical batch release testing services for Copaxone® generics (Glatiramer Acetate).
At MD Biosciences, the Multiple Sclerosis efficacy model contains immunization with Myelin Oligodendrocyte Glycoprotein (MOG35-55), which induces a chronic form of EAE in mice.
Electrophysiology
Measuring motor action potentials in the MOG-EAE model.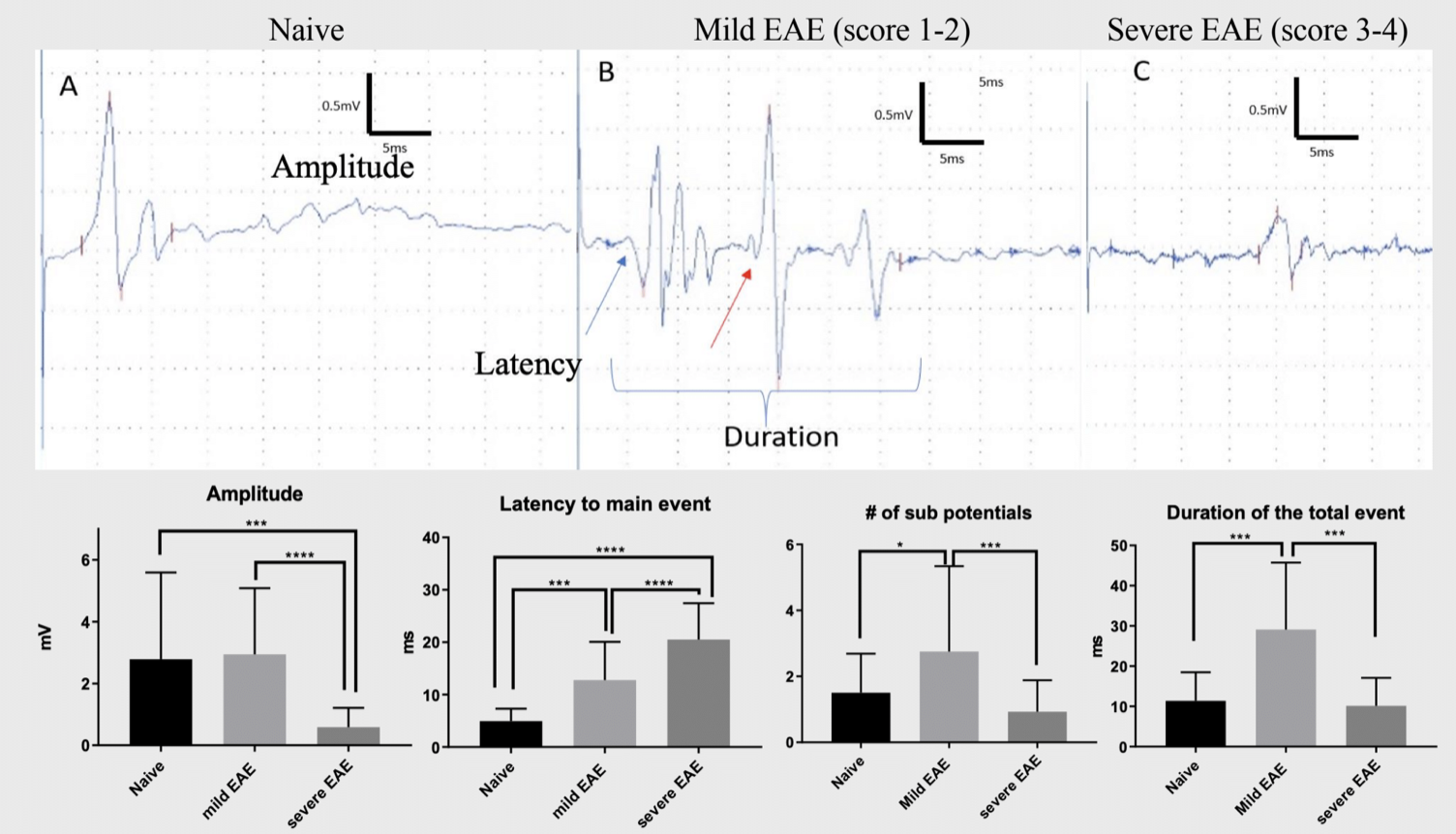 H&E Staining
H&E staining can demonstrate inflammatory infiltrate into the spinal cord.
Figure B. Low magnification showing diffuse histologic abnormalities. Figure C. Medium magnification showing multifocal vacuolation, predominantly in the ventral white matter. In some vacuoles there is myelin debris (black arrows). There is increased cellularity due to gliosis and inflammatory infiltration in the gray matter in the area surrounding the asterisk. Figure D. Medium magnification showing marked inflammatory infiltration of the terminal spinal cord (N = spinal nerves of the cauda equina). Figure E. High magnification showing diffuse mononuclear infiltration and multiple vacuoles containing myelin debris (black arrows).

IHC Using Myelin Basic Protein (MBP) Antibody
IHC staining can demonstrate demyelinization through decreased signal for MBP.

Figure: Longitudinal Sections of Spinal Cord of MOG-induced EAE Model in Mice (IHC with Anti-MBP Antibody). Figure A. Normal region including white matter (mostly presented as longitudinal fibers) in both sides of the grey matter. Figure B. White matter damage including myelin debris (black arrows). Figure C. High magnification of digestion chambers (black arrows)