Neurodegeneration Screening Assay
Screening compounds for their degeneration index.
Rapid In vitro screening for degeneration
These in vitro screening assays utilize primary neurons from immature mice or rats. Following the conditioning phase, cultures are treated with compounds and evaluated for their neurodegeneration index. The assays are ideal for screening compounds prior to efficacy in in vivo studies.
A hallmark of degeneration is the blebbing of neurites, which is when neurites begin disassembly and degeneration. The neurodegeneration index (NI) compares the relative area of neurites and the number of blebs.
Neurodegeneration Screening Assays
Scientific Data
Staining shows Neurodegeneration following exposure to cisplatin, observed by the reduction in neurite area.
After 5 days of conditioning, there is an appearance of blebs. When the test item is added to the culture, the blebs decrease.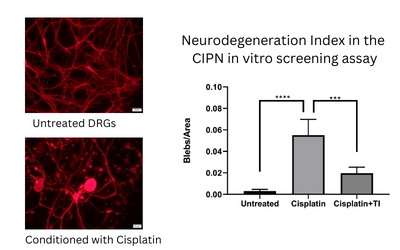 Review the complete dataset.