Using the neurite outgrowth assay to study neuronal development and degeneration in vitro
Neurite outgrowth is the projection and extension of neural processes from developing neuronal cell bodies that occurs via cytoskeletal reorganization, and is an important process during normal neuronal development. Through this process, neurons organize themselves into highly complex, functional networks connected synaptically to one another. Modulation of this neurite outgrowth process (neuritogenesis) has been implicated in a wide range of CNS diseases, including neurodegenerative disorders such as Parkinson's Disease and stroke, as well as spinal cord injuries and various forms of neurotoxicity.
The neurite outgrowth assay provides an in vitro method to examine the potential effects of exogenous compounds on neuronal activity and development, providing valuable information on the potential of therapeutic compounds to either enhance or inhibit neuritogenesis.
Readouts in the neurite outgrowth assay include neurite number, neurite length, and neurite branching.
Scientific Data
Neurite outgrowth in a spinal cord injury in a dish assay. Data shows that Neurite length and synapses per cell increased in the positive control group.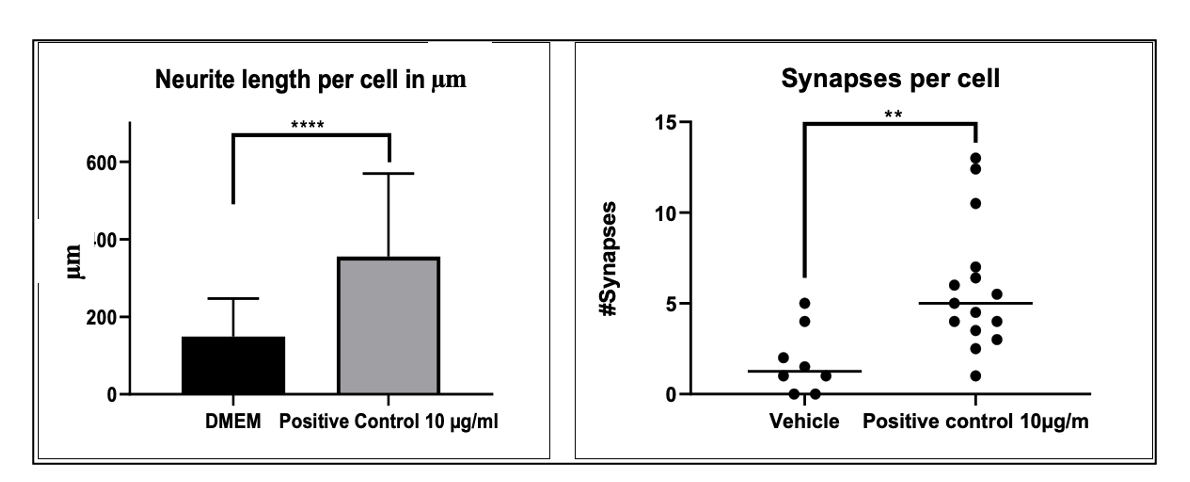 Review the complete dataset.