5 min read
EAE Preclinical Model Associated With FDA Approved MS Drugs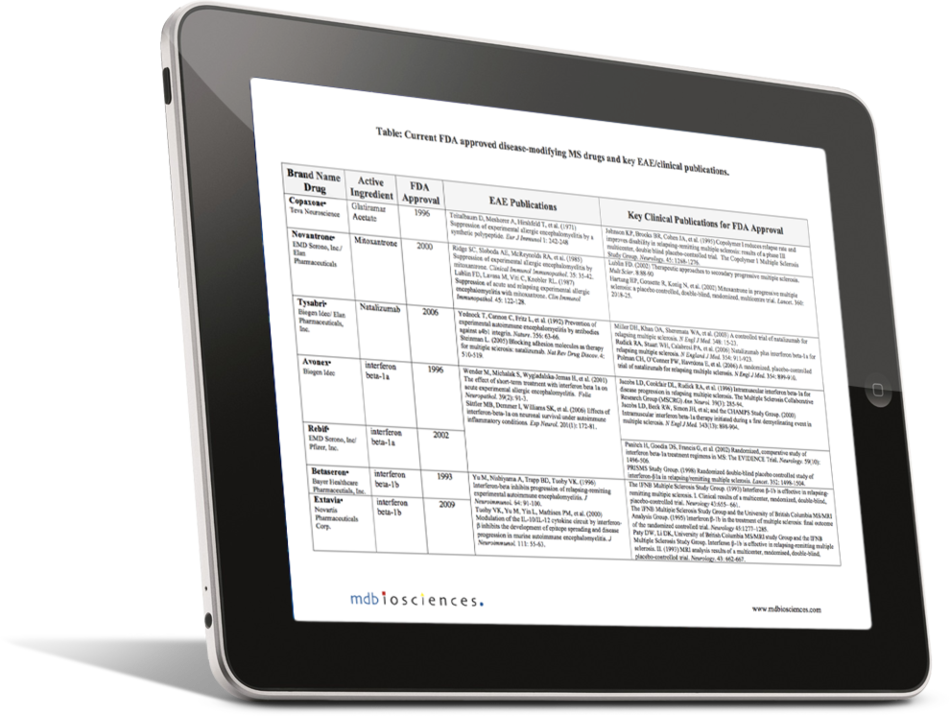 The Experimental Autoimmune Encephalomyelitis (EAE) model is associated with FDA Approved MS Drugs and Fingolimod
Introduction:
Multiple Sclerosis (MS) is a demyelinating disease of the central nervous system (CNS) that results in motor, sensory and cognitive impairment. MS is one of the most common disabling neurological diseases in young adults and is more prevalent in Caucasians of northern European ancestry. The disease course is unpredictable and life-long, and affects women more commonly than men. The main characteristics of this disease are focal areas of demyelination and infiltration of inflammatory cells in the CNS. Despite numerous studies and experimental trials a complete understanding of the pathogenesis still remains unclear. The etiology of the disease seems to be dependent on genetic and environmental factors, which result in substantial observed variations throughout the course of the disease. Today, new treatments and medications are advancing hope for people affected by the disease, and the experimental autoimmune encephalomyelitis (EAE) model continues to play an essential role in MS drug development.
On January 20, 2010, Novartis reported that its oral drug Fingolimod (FTY720) had positive results after phase III clinical trial testing and that Novartis is submitting formal documents for drug approval by the Food & Drug Administration (FDA). Fingolimod would be the first FDA approved oral medication for the treatment of MS. Similar to the current FDA approved, disease-modifying drugs for MS, Fingolimods success has been associated with research conducted in models of EAE. Although no animal model thus far establishes all facets of human MS, EAE models are the most commonly used disease models and are an important tool for scientists testing MS drug candidates.
Current drugs for MS and Fingolimod:
Three of the seven FDA approved drugs for MS, Tysabri® (Natalizumab), Copaxone® (Glatiramer Acetate) and Novantrone® (Mitoxantrone), were clinically developed as a direct result of initial discoveries made using an EAE model. Glatiramer Acetate was first modeled in 1971 as a mixture termed Copolymer 1, consisting of glutamate, tyrosine, alanine and lysine. It was first tested in an acute model of EAE and then subsequently in guinea pig and nonhuman primate models of relapsing EAE where in both instances it suppressed disease. Following the initial success in the EAE model it was clinically tested and found to be effective in the treatment of relapsing-remitting MS. The entire development process from the modeling in EAE to FDA approval took 25 years.
Mitoxantrone was first modeled in EAE using rats because it belonged to a class of drugs that had cytotoxic effects, but had previously shown potential for improving MS. Using this model it was found to reverse paralysis. The preliminary work was done in the mid-1980s and progressed into clinical testing that demonstrated positive results leading to its approval by the FDA in 2000 for the treatment of progressive-relapsing, secondary-progressive and worsening relapsing-remitting MS.
Natalizumab is another drug developed as the result of EAE findings. It was first modeled using rats where it inhibited paralysis in an acute model of EAE. This work was done in the early 1990s and similar to the other drugs was tested in clinical trials, which resulted in its FDA approval for the treatment of relapsing MS in 2004. Soon after its approval, it was pulled from the market as a result of two deaths where patients developed Progressive Multifocal Leukoencephalopathy (PML). In 2006, Natalizumab was re-approved by the FDA after a panel voted unanimously that the benefits outweighed the risks.
The other four drugs, in the category known as b-interferons, were tested in EAE models as an additional assessment to further characterize their mechanism of action, and were not clinically developed as a direct result of an initial EAE investigation. b-interferons were developed based on the thought that MS was a virally mediated disease, and that the known immunomodulatory effects of b-interferon may be used to treat MS. The two b-interferons used for the treatment of MS are INFb-1a and INFb-1b. INFb-1a is identical to endogenous IFN-b and IFNb-1b differs in structure by two amino acids and is not glycosylated. The active ingredient in the drugs Avonex® and Rebif® is INFb-1a, while INFb-1b is the active ingredient in Betaseron® and Extavia®. b-interferons have been shown to reduce the progression of disease and the extent of demyelination in a PLP-induce EAE mouse model. Not only did this coincide with clinical trial test results, it was also an effective means to further characterize the drug pathway.
As mentioned in the introduction, oral Fingolimod is the latest drug that is currently pending approval by the FDA. It would be the first oral disease-modifying drug for MS as the others are delivered by injection or IV infusion. Fingolimod modulates sphingosine-1 phosphate receptors. It's thought that the drug causes T cells and B cells (immune cells) to be immobilized in the lymph nodes obstructing their circulation to the central nervous system, thus alleviating the inflammatory aspects of MS and concomitant damage to neurons and myelin. Before Fingolimod was pursued in the treatment of MS, it had previously been used as an immunomodulating agent for islet transplantation and kidney transplantation. Its advantage over traditional immunosuppressive agents was its ability to not inhibit T cell activation and to not hinder viral immunity. Comparisons were drawn and scientists took note of its potential ability as a therapeutic for MS. Tests were first conducted using an EAE model in Lewis rats that indicated that oral Fingolimod reduced lymphocyte trafficking and CNS inflammation. This provided intriguing data to move forward with the clinical development of Fingolimod as a therapeutic agent for MS. Results from recent phase III clinical trials were published in January of 2010. They indicated positive results with regards to reducing relapse rates of MS and slowing the progression of disability.
Conclusion:
The EAE model plays an integral role in the development and understanding of drugs for MS and future discoveries will no doubt rely on EAE for efficacy and safety testing. The 7 drugs currently approved by the FDA and Fingolimod, waiting approval, are important steps forward in the treatment of MS.
References:
Sriram S, Steiner I. (2005) Ann Neurol. 58: 939-945.
Steinman L, Zamvil SS. (2006) Ann Neurol. 60:12-21.
Friese MA, Montalban X, Willcox N, et al. (2006) Brain. 129: 1940-1952.
Emerson MR, Gallagher RJ, Marquis JG, et al. (2009) AALAS J. 59: 112-128.
Virley DJ. (2005) Journ Amer Soc Experim NeuroTherapeutics. 2: 638-649.
Gold R, Linington C, Lassmann H. (2006) Brain. 129: 1953-1971.
The National Multiple Sclerosis Society. (2009) http://www.nationalmssociety.org/index.aspx